The Short Knife, by Elen Caldecott: This children's novel is set in a time often ignored by historical fiction writers: early post-Roman Britain, when the Empire has retreated and the physical infrastructure it built is crumbling, but elderly people can remember a time when everything was different. Saxon invaders/settlers/colonialists (pick your favourite noun) are starting to battle it out for land and supremacy with the native British warlords. Caught in this historical maelstrom is thirteen-year-old Mai, who loses her family farm one night to the drunken fury of three Saxons, and who vows vengeance. Her father badly burnt and her older sister Haf hurt in a way Mai doesn't understand (although the reader thinks they do, given that the novel is intercut with flash-forward scenes nine months later to Mai's sister giving birth), they make their way to the camp of the local British strongman, Gwyrthaeyr, hoping that ethnic ties (all the native Britons consider themselves kin) will prompt him to help them. All does not go as planned, and Mai finds herself a slave in a Saxon camp, instead.
Caldecott engages gracefully and forcefully with the limited options available to the two sisters. Haf makes herself useful with "honey smiles" and "sweet words", becoming a storyteller and adviser under the assumption that getting closer to power is the safest place to be. Mai, who is repeatedly told by various characters to "grow up", doesn't understand Haf's strategy, seeing it as betrayal, and takes a more overtly resistant approach, which frequently endangers her. My primary frustration is a stylistic one: to achieve an archaic tone, Caldecott often relies on kenning-like constructions, some of which work well ("infant-small", "dust-crumbled") and some of which only get in the way ("bitter-coiled ferns"–why?; "trip-tangled" brambles–that being a defining feature of brambles). But it's a strong entry for children's fiction, with engrossing characters, and rarely have I had such a sense of how far back cultural diffusion goes in the history of these islands.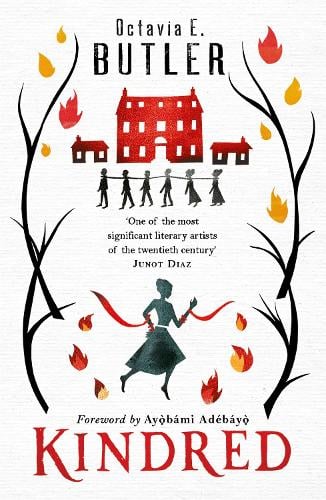 Kindred, by Octavia Butler: You shouldn't really need me to tell you how excellent this book is, but in case you don't know: it's excellent. The premise is that Dana, a Black woman in contemporary California (the novel was written in 1979), finds herself being repeatedly pulled back in time to save the life of her ancestor Rufus Weylin, the scion of a white slave-owning family in Maryland. The first time she meets him, it's 1815, and they encounter each other again and again over the next few decades, every time his life is endangered and Dana is summoned out of the future to rescue him. Dana's white husband, Kevin, is also pulled into the past at one point, and his experiences there are–by virtue of the colour of his skin and his gender–very different, although Butler is perhaps fairer than she needs to be in pointing out that Kevin, too, faces dangers in the antebellum South. Perhaps the hardest-hitting element of the novel, though, is Butler's repeated demonstration of the ease with which enslaved people can be forced into complicity: through a fear achieved by threats of extreme bodily violence and extreme emotional torment (largely because families can be torn apart on a master's whim at any time). Dana explicitly discusses the idea of complicity more than once, although she also recognizes coercion and rape: her ancestress, Alice Greenwood, is bought by Rufus because he is in love with her, but his love does not extend to permitting her choices about where she sleeps at night, or to freeing her children. (He does dangle the promise of freedom, though, which is partly what keeps Alice in place.) After Kindred, every other time-travel novel feels a little anaemic, a little under-examined. It's a magnificent piece of work.
recent reading thoughts: I've been very slow this month, so far. I'm blaming it on the anxiety of moving and a lot of weekend activities. At the moment I'm nearly finished with Where the Crawdads Sing, which I don't love, although I'm warming up to it now that the trial has commenced. More on that next week.