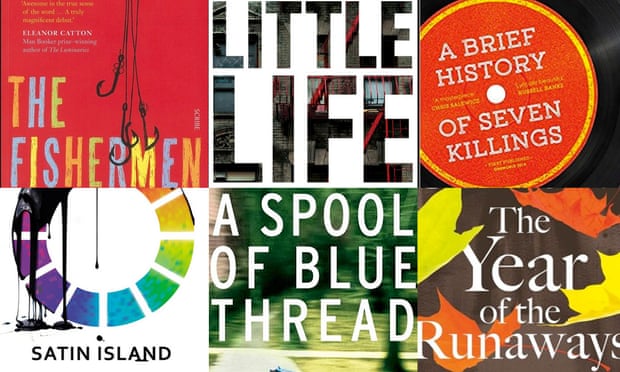 This is totally brilliant–the two Man Booker longlisted books that I've managed so far are also on the shortlist! That's nearly half my work already done (although I doubt that I will actually be able to manage the entire shortlist by the date of the announcement, I'll give it a try)!
A quick rundown:
A Brief History of Seven Killings (link to review) was one of the best books I'll read all year. I said I didn't think it would win, but I'm now having to reconsider–obviously the judges have some sense of taste and discretion. It's a magisterial exercise in controlling a sprawling plot and maintaining two dozen-odd separate voices; the only thing that I thought might challenge its place on the shortlist would have been a judicial tendency to prefer the contemporary-realism on offer from most of the white/Anglo writers. With most of them out of the way, the most plausible challenger to this book's ultimate victory is A Little Life.
The Fishermen (link also to review), by Chigozie Obioma, is impressive too, albeit in a totally different sort of way. Control of voice is still the key to its success; having a child narrator who isn't obnoxious and still gives the reader the information she needs is hard, and Obioma does it. He also integrates themes of classical tragedy and postcolonial trauma in a way that never feels forced or showy. I doubt this will win, though, pitted against the other big beasts on the list.
A Spool of Blue Thread has now made it onto both the Man Booker and Baileys Prize shortlists, which means there has got to be something to it, but I still can't bring myself to be more than marginally interested in it, given a plot blurb. If it wins, I'll read it and get some sense of what this is all about; if not, I won't seek it out. I've never read any Anne Tyler before; maybe if I had, I'd be more keen.
A Little Life is the least surprising presence on the shortlist. Pretty sure it was Yanagihara's contest to lose from the get-go; now it'll be interesting to see if her book has a different effect in the context of a smaller, more focused list. This is the one I most want to have read by the time of the announcement.
Satin Island's inclusion surprises me. As I think I said before, the premise seems entirely slick and heartless, a bit cynical and ironic and po-mo, a sort of dying gesture towards the cult of David Foster Wallace. I'm still not about to back it for the win, but perhaps there's more to it than its summary would make it seem.
Finally, we have The Year of the Runaways, which I expect will stand or fall as a book based on its ability to make us care about a very current-events sort of premise, and as a contestant based on its ability, again, to measure up to James and Yanagihara's books. I know next to nothing about it, but it might be the feel-good entry. Or it might be brilliant! Anything is possible.
I'm genuinely shocked to see that Lila isn't on the list. Marilynne Robinson writes beautiful prose that conveys humane, complex ideas; if there's a better description of what a good novelist does, let me know, but I rather think she fits that one. If anything was almost guaranteed to be on the shortlist, it was Lila. I wonder whether that's the very reason the judges left it off. You'd like to think not, but there are all sorts of behind-the-scenes decisions being made…
Anyone have any other feelings about the shortlist? Anyone read some, most or all of the books? Anyone think they can confidently predict a winner?!