The Liar's Dictionary, by Eley Williams: I hadn't read Williams's debut story collection, Attrib., but everyone I knew who did read it thought it was fantastic. The Liar's Dictionary is a dual-timeline novel set in the offices of an eccentric fourth-rate enyclopaedic dictionary in the present day, and during its heyday a little over a hundred years ago. Our contemporary protagonist, closeted-at-work intern Mallory, never becomes aware of the identity of perpetually-belittled Peter Winceworth, but his lasting contribution to the dictionary–a series of entirely invented words scattered throughout its text–becomes her problem, as her boss instructs her to find and remove them before the whole thing is digitized. Winceworth, meanwhile, we learn, is inserting the words as a means of relieving his feelings, both about his place of work and about the enigmatic fiancee of his most unbearable colleague. Williams's style really carries the book, with a kind of madcap yet melancholy glee, and a glorying in words–not in a wishy-washy oh-the-wonder-of-language sort of way, but in a way that takes a very Edwardian pleasure in precision and elegance. The plot in the contemporary sections becomes increasingly frenetic, but that felt somehow right; both narratives possess a kind of surreal sheen, which led a colleague to compare the book, in a way, to Wodehouse's work (though much more conscientious and less privileged). I loved The Liar's Dictionary and found it heartbreaking at the same time; it's just the right level of weird for me.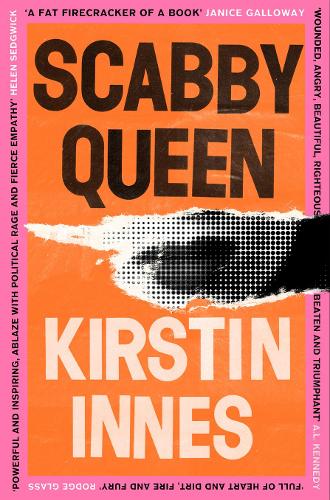 Scabby Queen, by Kirstin Innes: It's an old adage of criticism that it's easier to write about something you hated than something you loved. I loved Scabby Queen, and I'm going to try to write about it anyway. It opens with the death of fifty-one-year-old Clio Campbell, who achieved moderate levels of fame as a protest singer in the '90s and who has just overdosed on pills and vodka in the flat of her long-suffering (and, we realize, taken-advantage-of) friend Ruth. Over the next three hundred pages, various people who entered and exited Clio's life—her godfather, a music journalist half in love with her, several women who lived in a Brixton squat with her, someone she only met once on a train—give their perspectives on a woman whose relentless political activism and manipulative social charm were both entrancing and infuriating. It's very rare, especially now, to get a look at both sides of activism, particularly historic activism: the genuineness of early-days-of-a-better-world idealism mixed with what can be a disturbing willingness to sacrifice whatever gets in the way. Innes nails that balance, and nails her portrait of Clio, who becomes increasingly more difficult to sympathize with but also increasingly nuanced: by the end, when her suicide note is revealed, her motives seem simultaneously obtuse and entirely in keeping with what we know of her. I suspect people who remember the '90s and early '00s as adults will find even deeper resonances in Scabby Queen's political aspects. I loved them, but what I loved most was Innes's brilliance at characterization. Like Daisy Jones and the Six, an oblique approach to a central character through the people whose lives they affected results in something both tough and touching, and utterly without condescension.
The Odyssey, by Homer: I'd never actually read it! Isn't that weird? It must be the case for quite a lot of people. The stories are so familiar from excerpted children's versions and adaptations that we feel as though we have. Anyway, I think the primary thing to be aware of while you're reading is the very different weight and pacing present in the poem. The first four books are about Odysseus's son, Telemachus, who embarks on his own short journey to find out more about where his missing father could be; Odysseus himself doesn't appear until book five, by which point he's already lost all of his ships and companions to various disasters and is reduced to telling the tale of his adventures to the friendly Phaeacian court during books nine to twelve. (Interestingly, Doug Metzger suggests on his podcast Literature and History that these books are no more likely to be "true", within the world of the poem, than any of the other lies Odysseus tells about his origins. I'd contest that, since much of that lying is done in order to protect himself upon his return to Ithaca, which is essentially an occupied territory, but I love the idea: we've only Odysseus's word to say that the Lotus-eaters, Circe, Scylla and Charybdis, the journey to the underworld, the Cyclops episode, etc., actually happened at all, and he's a notorious fibber.) They send him back home under escort in book thirteen, and the entire second half of the poem is about him regaining his property, murdering the men who've been harassing his wife, and Telemachus's coming of age.
It's known as an adventure/travel poem, but it's very much more, I think, a poem about restitution, espousing a fundamentally socially conservative view of the world's proper order. (It's Tom Jones. Or rather, Tom Jones is the Odyssey. Hey!) For all that, it's much more engaging to me personally than the Iliad was, perhaps because the emotional atmosphere is much more immediately identifiable for a reader who's never been to war. Be warned: the final books are brutal. Margaret Atwood's poem A Chorus Line neatly sums up the breathtaking hypocrisy of the murder of the maids (from one perspective; from another, of course—that socially conservative one the poem partakes of—Odysseus is merely ensuring that loyalty to his person and his dynasty, even when they're not present, is the order of the day. Fascinating how that always seems to involve punishing women. I wonder if the housekeeper Eurycleia, who eagerly provides her returned master with the names of maids who've "behaved shamefully" in his absence, was a model for Aunt Lydia.) Anyway, the Oxford World's Classics edition I read was translated by Anthony Verity and is, from a non-classicist's perspective, excellent; you get a good sense of the original Greek's use of repetition, but not so much so that it's annoying, and thank God Verity does not attempt to match an antique meter or rhyme scheme. If you're relatively new to antique poetry, I'd recommend this edition particularly: the end notes are also good and there's a handy index of first names in the back.